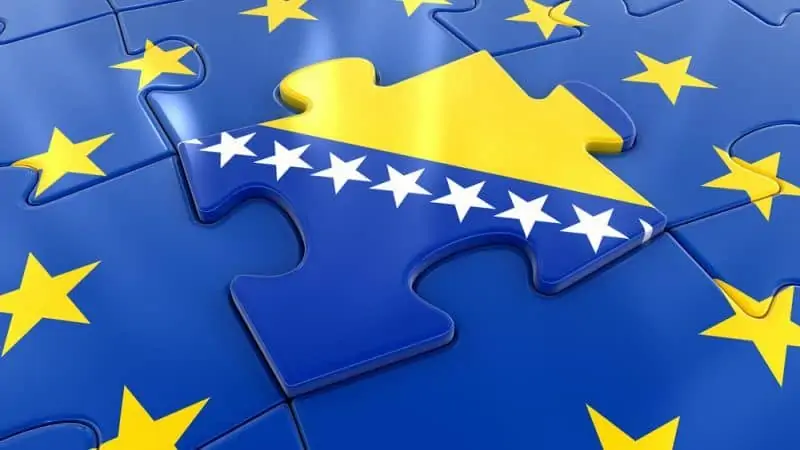 Bosnia and Herzegovina future member of European Union
Aspirations of all citizens of Bosnia and Herzegovina is to be united, peaceful, prosperous and a future Member State of the European Union.
Bosnia and Herzegovina – along with other Western Balkans countries – was identified as a potential candidate for EU membership during the Thessaloniki European Council summit in June 2003.
Since then, a number of agreements between the EU and Bosnia and Herzegovina have entered into force – visa facilitation and readmission agreements (2008), Interim Agreement on Trade and Trade-related issues (2008). The Stabilisation and Association Agreement (SAA) has been ratified and entered into force on 1 June 2015.
Bosnia and Herzegovina's application for EU membership was submitted on 15 February 2016.
EU welcomes Bosnia's progress on European integration path
The 28 Member States of the European Union fully and firmly support Bosnia and Herzegovina's EU perspective as a future member state of the European Union.
The Council adopted conclusions on the application of Bosnia and Herzegovina for membership of the EU on 20 September 2016.
On 18 June 2019 the General Affairs Council adopted conclusions on enlargement and stabilisation and association process, covering Bosnia and Herzegovina.
On 20 June 2019 the European Council endorsed the conclusions.
Next steps
The Commission makes a recommendation to the Council of the European Union (27 Member States) on whether candidate status may be granted to BiH, and may set a date for opening accession negotiations.
On completion of the negotiations, a Treaty of Accession is signed and ratified by the Member States and the European Parliament gives its assent.
The country joins the EU on a given date.
What the EU does for its citizens
Since 1957, the European Union has benefited its citizens by working for peace and prosperity. It helps protect our basic political, social and economic rights.
Although we may take them for granted, these benefits improve our daily lives.
Peace & Security
Central and western Europe has never known so long a period without war. The EU is the most successful peace project in human history and has been awarded the Nobel Peace Prize. Europeans are closely linked economically and culturally, and through the democratic values we share.
Single Market
The single market is the world's most highly developed and open marketplace. It is based on the EU's 4 key freedoms, which enable you and other citizens to:
live or work in any EU country
move your money
sell goods without restrictions
provide services on the same basis.
High food & environmental standards
Because EU countries cooperate so closely, our food and our environment meet some of the world's highest quality standards. Unscrupulous companies can't get away with selling contaminated food or polluting our rivers and countryside.
Consumer benefits
Shoppers can now feel safe in the knowledge that they will get their money back if they return products. Travellers can buy train or plane tickets, knowing they can get a refund if their journey is delayed or cancelled. And the standards which goods in EU shops are required to meet are among the world's most stringent, in terms of both quality and safety.
Human Rights
The EU protects all minorities and vulnerable groups, and stands up for the oppressed. Regardless of a person's nationality, gender, language group, culture, profession, disability or sexuality, the EU insists on equal treatment for all.
Global Power
EU countries acting in unison have much more of a voice on the world stage than 27 small and medium-sized nations acting separately. We have political clout. As regards trade, our regulatory and product standards are adopted worldwide as the global norm.
Other benefits the EU brings its citizens are:
You can use your phone and online services at no extra cost wherever you are in the EU. You can also access your online video and music streaming services across the EU, safe in the knowledge that your personal data is protected under EU law.
Your rights are protected while you're travelling: EU rules protect your rights in the event of delays or cancellations. Whether travelling by plane, train, boat or bus, you are entitled to fair treatment.
You can benefit from training and support for your business: EU programmes like Erasmus+ help you get training to make the most of your career. The EU also helps you get the most out of your business – from finance to coaching, and from business networks to exchange schemes.
As a worker, you're protected from unfair treatment in the workplace under the EU Charter of Fundamental Rights. This bans discrimination, including in the areas of pay and dismissals.
As an EU citizen, you're protected against the downsides of globalisation by EU support for small businesses and rules to make sure that big companies pay their fair share of tax.